Beeldsmederij DE MAAN brings a character on scene that looks like he just ran away from Tadeusz Kantors 'The Dead Class'. His face is as white as a sheet and spooky. Christiaan Mariman beautifully moulds this figure into the form of a grotesque, rusty creature of habit. The rut is dripping down his face, the loneliness and also the astonishment when all of a sudden his magical wall slowly comes to life. 'Muurke' evolves from slapstick to a thrilling and spine-chilling horrostory, thanks to the amazing scenography.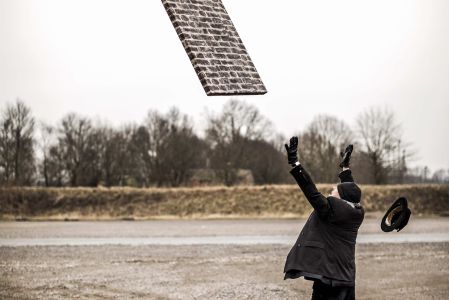 Beeldsmederij De Maan
A short performance about a lonely man who is doomed to remain stuck in his daily routine.
But today is different!
His old house suddenly starts to communicate with him.
The man discovers that he's not alone.

At the request of company DE MAAN, Christiaan Mariman developed MUURKE (formerly named: "If Walls Could Talk"). Mariman is a theatre maker/director, based in Brussels and a co-founder of Kopland. He's working on his own theatrical language, which manifests itself in his focus on scenography, soundscapes and physical movements of the actor/dancer. His subject matter evolves around the 'horror of the world' in the broadest sense of the term.
Director & Concept-developer: Christiaan Mariman
Actors: Christiaan Mariman, Michelle Peters
Production: Image-smithy DE MAAN ikv JONG GOUD i.c.w. Mechelen Talentenfabriek
Thu 3 Jan - 12 am
For free, without reservation
Thu 3 Jan - 3:30 pm
For free, without reservation
Thu 3 Jan - 5 pm
For free, without reservation